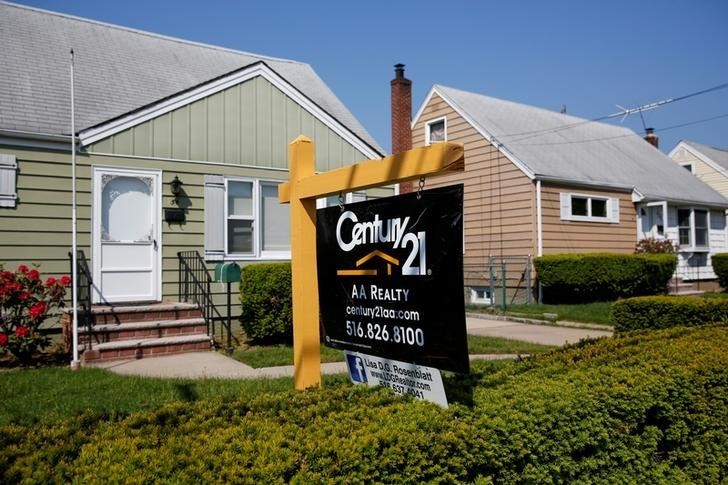 FILE PHOTO: A 'House For Sale' sign is seen outside a single family house in Uniondale, New York, U.S., May 23, 2016. REUTERS/Shannon Stapleton/File Photo
NEW YORK (Reuters) – U.S. mortgage application activity fell to its lowest in five weeks as interest rates on 30-year fixed-rate home loans jumped to their highest in four years, the Mortgage Bankers Association said on Wednesday.
The Washington-based industry group's index on mortgage request volume fell 4.1 percent to 399.4 in the week Feb. 9. This was the lowest reading since 390.2 in the Jan. 5 week.
Average interest rates on 30-year conforming mortgages, or loans whose balances are $453,100 or less, rose to 4.57 percent, up 7 basis points from the previous week. This was highest since January 2014.
Other 30-year mortgage rates on average were up 7 basis points to 8 basis points on the week, while average 15-year mortgage rates reached 4.00 percent, the highest since April 2011.
Home loan rates have increased in line with U.S. bond yields on concerns about rising inflation and reduced stimulus from central banks amid an improving global economy.
On Monday, benchmark 10-year Treasury yield <US10YT=RR> hit a four-year peak at 2.902 percent, Reuters data showed.
MBA's mortgage purchase index, seen as a proxy on future home sales, fell to 240.4 last week, down 5.9 percent, which marked its steepest weekly decline in more than three months.
The group's barometer on refinancing applications fell 1.9 percent to 1,274.
Long, Richard "U.S. mortgage application fall as home loan rates hit four-year high:MBA" Reuters, Reuters 14, Feb. 2018 https://flipboard.com/topic/realestate/u.s.-mortgage-applications-fall-as-home-loan-rates-hit-four-year-high%3A-mba/a-KeU7NomFREWUGKQwJaygRQ%3Aa%3A3197430-4af3108714%2Freuters.com